Lifeboats, Launching Appliances & Release Gear Annual and Five - Yearly Inspections.
UMS Marbalco Co. Ltd has highly qualified personnel to attended the annual and 5-yearly services on lifeboats, rescue boats, launching appliances and release gears, hooks replacements / modification as per MSC.1/1392 including.
Our service engineers are fully equipped and trained to carry out services such as: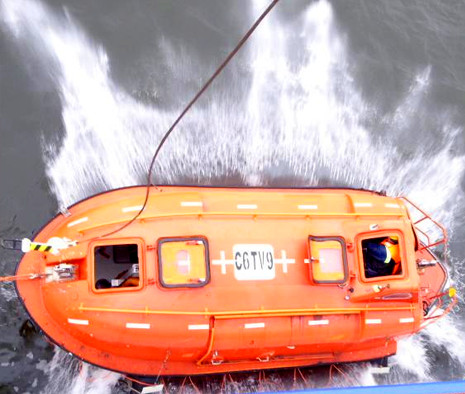 Annual and 5-yearly services on lifeboats, rescue boats, launching appliances and release gears,
Davits Load tests using our own water bags,
Hook release tests using our own special boat water bags with the adequate weight, evenly distributed in lifeboats,
Maintenance and repairs,
Hook replacement / modification in accordance with MSC.1/1392,
Fiber glass cosmetic repairs,
Maintenance of hooks and release systems.
UMS Marbalco Co. Ltd. is approved by following boats and davits manufacturers:
Nishi F Co., (ex Ishihara dockyard or Dodwell),
Miura Machine Co. Ltd. (ex Vider, Dodwell or Inchcape),
Shigi Shipbuilding Co., Ltd,
Mansei Incorporation,
Sekigahara Seisakusho Ltd.,
Dalian Mingzhu F.R.P. Boat Company,
Hyundai Lifeboats Co. Ltd,
Bada Heavy Industries Co. Ltd,
Oriental Precision Inspection & Service on behalf of Oriental Precision & Engineering Co. Ltd.
JIANGYINSHI BEIHAI LSA Co., Ltd
In case when our company and/or our Service Engineers do not have particular manufacturer approval, according to IMO Circular MSC/Circ. 1206 we can carry out services as " competent person " under class inspector supervision and Flag approval.
Our company has following Class Societies approvals for servicing of Lifeboats, Launching Appliances and On-load Release Gear on ships:
DNV - GL
Lloyd's Register ( LR )
Bureau Veritas (BV )
American Bureau of Shipping (ABS)
Russian Maritime Register of Shipping ( RMRS )
Our services are offered in all polish ports (Szczecin - Swinoujscie - Gdynia - Gdansk).
In cooperation with an affiliated company SEA Light Ltd. we can provide life raft testing, service and repacking; life jackets and immersion suits inspections and marine pyrotechnics delivery. Commercially available are liferafts intended for commercial vessels (SOLAS) and yachts (ISO9650), life jackets, immersion suits. Dock side pick up and delivery available.
Click here to link directly to SEA Light Ltd website.
Through other authorized partners ( subcontractors ) we are able to offer inspections/services of :
Fire extinguishers, EEBD, CABA, Fire Extinguishing Systems,
Calibration of Gas Detectors and UTI meters
If you have any questions or need more information please do not hesitate to contact us.
Call us at : +48 58 551 70 37
Mr. Witold Wajdeczko - Service Manager
Phone : +48 58 343 16 56 | Mobile: +48 501 152 772 | e-mail : ums@marbalco.com
Maciej Wojnarski - Operation
Phone : +48 58 551 70 37 | Mobile: +48 602 789 045 | e-mail : ums@marbalco.com