The origins of UMS Marbalco Co. Ltd. date back to the end of the 80s. On 29th October 1988, there was launched Sulbalco Co. Ltd., with one its main shareholders being Polish United Baltic Corporation Ltd., and head office located at heart of port of Gdynia on Polskie Quay.
The Company's scope of activity mainly comprised services of quantity and quality inspection of goods carried in ships, technical survey of containers as well as technical services to ships or other services rendered in respect of the handling of cargo in ports. On 4th December 1990, Sulbalco created its 'daughter' company called United Marine Services Co. Ltd. and acquired 100 shares in it. The establishing of the new Company was connected with the extending of the activities of Sulbalco by those of a ship's agent. On 24th January 1991, following the transformations in the Sulbalco company's ownership, the name of the was changed to Marbalco Shipping Co. Ltd., its registered office having been moved from Gdynia to Sopot.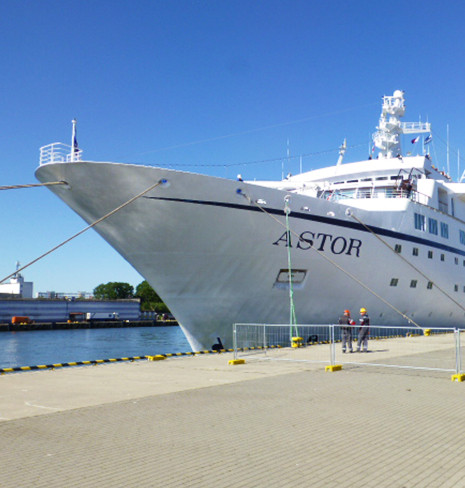 On 24th August 1990, Marbalco created its new field of activity - the Flag State inspections. On that day, the contemporary Director of Bahamas Maritime Authority, Capt A.L. Morris, with the approval of his Deputy, Capt Frank Quick, appointed two Polish candidates to the posts of Bahamian inspectors ( Approved Nautical Inspector – ANI ), and the candidates were: Capt. Kazimierz Goworowski, since very beginning Marbalco's and UMS Director and late Zbigniew Galiński, Naval Architect, the latter having an extensive professional experience in his capacity as a many years' surveyor of the Classification Societies ( Polish Register of Shipping and Det Norske Veritas ). In the subsequent years, Marbalco obtained further entitlements from Maritime Administrations to carry out the flag inspections - from the Administrations of Barbados, Malta, Vanuatu, St. Vincent & The Grenadines, Belize, St. Kitts & Nevis and Jamaica. Having at its disposal a network of surveyors in Polish and Russian ports, Marbalco carried out about 150 various inspections yearly. A majority of them (over 80 %), was done in Polish ports, but the second place was held by the port of Saint Petersburg where three Russian surveyors ( Master Mariners ) have worked for Marbalco since October 2003.
The successive ports entered in the list were Klaipeda and Rostock, however Marbalco's inspectors have attended ships also in such ports as Stockholm, Landskrona, Cadiz, Palermo, Piraeus, Murmansk, Novorossiysk, Civitavecchia and many other European ports. Besides the obligatory, annual flag inspections carried out on various types of vessels ( bulkers, general cargo vessels, tankers, chemical carriers, gas tankers and passenger ships or even sail ships ), Marbalco's inspectors also effect pre-registration, preliminary, special and follow-up inspections and a considerable number of accident or marine casualty related investigations.
Planning a new joint endeavour, Marbalco alienated, on 3rd July 2008, 50 % of the shares in its own company United Marine Services Co. Ltd. to a Gdansk-based company Sea Light Co. Ltd. specialized in attesting life rafts and rescue equipment, the Board of the company having been joined by Mr. Witold Wajdeczko - Director and co-owner of Sea Light Co. Ltd. The new joint endeavor of the two companies was based on the implementation of the new requirement of the SOLAS Convention ( The 1974 SOLAS Convention as amended ) consisting in a necessity of subjecting all the merchant ships to 5-yearly and annual inspections aimed at checking the efficiency of their life and rescue boats as well as their hoisting and releasing gear ( davits, ramps, winches and the releasing devices ), ones carried out pursuant to IMO's Circular Letters - MSC.1/Circ.1206 of 26th May 2006 and MSC.1/Circ.1277 of 23rd May 2008. In this respect, the company entered into co-operation with the Japanese ISS Machinery Services Ltd. of Osaka, a renowned company specialized in the subject line of activity. In pursuance of IMO's requirements, the Company's service inspectors attended training courses organized by world's major manufacturers of safety equipment - in Japan, China and South Korea. An authorization from 12 manufacturers was obtained for that purpose, such major manufacturers like the Japanese Sekigahara Seisakusho Ltd. and Shigi Shipbuilding Corporation, the Chinese Qingdao Beihai Shipbuilding Heavy Industry Co. Ltd. or the Korean Hyundai Lifeboat Co. Ltd. and Oriental Precision & Engineering Co. Ltd. in that number. The Company was also acknowledged ( Approval of Service Supplier ) by 5 Classification Societies: LR, DNV- GL, BV, ABS & RINA, which entitled it to carry out surveys and provide services to safety equipment.
Following the deep structural changes and a reorganization made in the dominant company Marbalco, the name of United Marine Services was changed, on 22nd April 2011, to UMS Marbalco Co. Ltd.: with effect from 1st January 2012, UMS Marbalco took over the entire scope of activity of the former Marbalco along with the Baltic Sea pilotage services that had been rendered since the date of 12th October 2000.
The scope of the expertise, cargo and container inspection services rendered by Marbalco has been significantly extended. Besides its regular services provided to shipowners and forwarders, the Company has entered into co-operation with P&I clubs and it keeps fulfilling the expertise services agreement concluded with the organization of French insurers and underwriters Comité d'Ėtudes et de Services des Assureurs Maritimes et Transport ( CESAM ). As a result, Marbalco obtains a lot of orders for highly specialized expertise services that are performed both by the Company's own experts and the surveyors collaborating with UMS Marbalco on a permanent basis – most of them certified by the Polish Chamber of Maritime Commerce.
At the same time, the Company continues rendering its ship's agent's services. The Company's Agency Department provides such services to vessels operated by foreign and domestic shipowners.
Until the end of December 2021, our flag inspectors have conducted 2568 Flag State inspections in 19 European ports, whereas our service engineers carried out 934 annual and 5-yearly inspections of life and rescue boats as well as their hoisting and releasing devices plus a great number of dynamic load tests with the aid of the Company's own specialized equipment. Those inspections were mostly made in Polish ports but some of them were carried out in such ports like Karlshamn, Porsgrunn, Klaipeda, Riga, Savona, Damietta (Egypt) or Algeciras, too.
Our office is located in Sopot, the city situated in heart of Gdansk and Gdynia area and about 350 km to Szczecin / Swinoujscie. This allows us to cover with our activities all Polish ports.
It is worth emphasizing that UMS Marbalco Co. Ltd. has internally implemented and maintains its Quality Management System confirmed by the Certificate issued by Bureau Veritas according to the ISO 9001 Standard, one covering the entire scope of its activities.